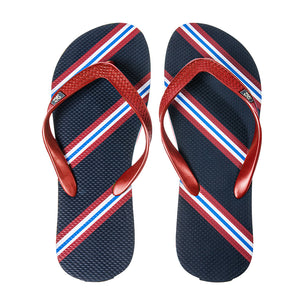 Club Flip Flop
Sale price Price $23.00 Regular price
Nothing screams rugby player quite like a good pair of flip flops and some members of the team here at CV22 have been known to wear their flip flops all year round whatever the weather.
A triple layer of EVA and natural rubber provides the perfect combination of comfort and strength. We've worked hard to ensure that you won't feel the plugs that attach the straps through the sole.
We shortened the toe post improving the fit and reducing that movement which often leads to rubbing. The closer fit also means you don't have to grip your flip flops with your toes when you walk- something we all felt makes a vast improvement to comfort.
Lastly we added extra plasticiser to the strap itself to make it slightly more elastic and less abrasive between the toes.
These are robust, comfortable flip flops that look great, feel great and if cared for will last several seasons.